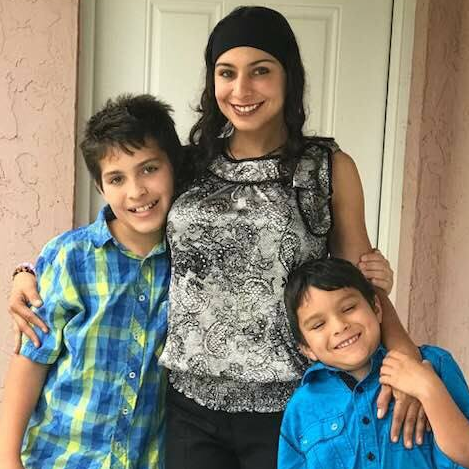 In this episode you will meet a fellow climate action figure. Solemi Hernandez finds great joy and fulfillment in the climate work she does. In hearing some of her own story, we hope it inspires you in your own. Originally from Venezuela, Solemi has lived in the US state of Florida for the past 17 years. She seeks to improve conditions for immigrant farm workers. She is also raising her two sons, and Solemi has taken on a very big mission. She wants to save the world starting in her own community.  
Like her father and grandfather before her, Solemi worked for the oil industry in Venezuela. In fact, she grew up in an oil town and saw firsthand the environmental and health hazards that came with the well-paid oil jobs. Once the oil industry became nationalized, Solemi moved to the USA and started on a very different path—as a social justice minded environmentalist. She began to volunteer with various groups including the Water Keepers Alliance and the Sierra Club. She helped create a local chapter of The Pachamama alliance, an umbrella organization that connects environmental and social justice organizations to work in the community. She also volunteered for Citizens Climate Lobby. 
Her concerns for her community and her passion to address climate change deepened in 2017 when she and her family endured a category 5 storm, Hurricane Irma. For three days the family lived in an emergency shelter in a public school that eventually also flooded. They returned to a devastated neighborhood. Their house survived the storm the region was without electricity for three weeks. With sweltering temperatures and limited supplies and resources, she and her community worked together to take care of each other. Solemi speaks about the added risks marginalized people face who do not have the income and mobility necessary to escape the storms and then to rebuild. 
Solemi admits that climate work is challenging, but she has found purpose and meaning in the climate work she is doing. Her enthusiasm is contagious, and her story is inspiring. 
Solemi Hernandez is Citizens Climate Lobby's Southeast Regional Coordinator covering Florida, Alabama, and Georgia. She first learned about CCL in 2017 and she immediately signed up as a volunteer because she was inspired by CCL's mission to create the political will for climate solutions. She is currently enrolled as a Political Science student at Florida Gulf Coast University. She has been a grassroots activist and community organizer for many years in Florida.
Prior to CCL, she worked as the co-host of a Spanish language TV talk show based in Southwest Florida. While at this position she had the opportunity to research and conduct in-depth personal interviews with political candidates and politicians. She has been volunteering with a number of organizations advocating in Tallahassee for the environment and the Everglades restoration.
Solemi is the mother of two wonderful young boys who are her motivation to continue her work for a better quality of life for all. She enjoys reading, watching documentaries, spending time with family and friends, going to the beach and exploring nature in all its diversity.
The Art House
Playwright Chantal Bilodeau returns to the Art House. Every two years to coincide with the UN COP meetings, Chantal and her team organizes an international event, Climate Change Theatre Action. They select 50 short climate change themed plays from 50 playwrights around the world. This fall over 200 communities organized events in 30 countries where they read some of these plays. Chantal shares highlights along with good news about how the movement is growing both in and outside of the theatre community.  A book with all 50 of the 2019 plays will be published in 2020. The collection of 50 plays from 2017 is available now. 
Puzzler Question
We hear your answers to a question about what household might do with a carbon dividend. Your friend Darren thinks given out a dividend is a bad idea. He says, "People will just use the dividend they get to continue paying for fossil fuels. Giving them money enables them to stay in their fossil fuel lifestyles. Hear what listeners had to say. 
New Puzzler Question
You are at a political rally chatting with a new friend. Let's call her Heather. When you ask her if she wants to join your climate group, she says, "Don't take this the wrong way, but I don't have time for climate work. I feel bad saying that but I work full time and two children still in school, I don't have time for protesting right now. 
How would you respond to Heather? 
Send Peterson your answer by January 15, 2020, along with your name, contact info, and where you are from. You can email your answers to radio @ citizensclimate.org or leave a voicemail of 3 minutes or less at 518.595.9414. (+1 if calling from outside the USA.)
Dig Deeper
You can hear Citizens' Climate Radio on iTunes, Spotify, Stitcher Radio, SoundCloud, Podbean, Northern Spirit Radio, Google Play, PlayerFM, and TuneIn Radio. Also, feel free to connect with other listeners, suggest program ideas, and respond to programs in the Citizens' Climate Radio Facebook group or on Twitter at @CitizensCRadio.
If you listen on iTunes, please consider rating and reviewing us!